Building a Biogas Map
One of the highlights of my job at Biomass Magazine is leading the development and implementation of our online and printed maps. Over the last two years, we have brought the design and upkeep of our printed and online maps back in-house in order to make updates quickly and offer as current a snap-shot of the industry as possible. The upgrades to our online Biomass Power, Pellet, Ethanol, and Biodiesel Plant Maps incorporate the best features of Google Maps along with satellite images of plants. Project developers, technology vendors, feedstock providers, policy makers, regulators, and enthusiastic bioenergy cartographers (I may be alone in the final category) will find our online maps useful for locating plants and understanding the nuances that only an aerial signature can relay. How doe plant A organize their feedstock yard? What is their rail capacity? Adsorption chiller or cooling pond? These are but a few questions that can be answered with our online map tool.
Backing up our maps, Biomass Magazine keeps up-to-date information on bioenergy plants across the U.S. and Canada. The value in our products is not simply that a list and map of plants and exists but, rather, that we keep that list up-to-date by confirming data with plant contacts on no less than an annual basis. Our massive email and phone efforts have led to the most up-to-date list of bioenergy plants available on the internet.
We are currently in the data acquisition stage of biogas plants in the U.S. for the eventual roll out of an online map of biogas producers. The Biomass Magazine team has been working for weeks using our best investigative reporting skills to track down plants and their pertinent information. Once completed, Biomass Magazine's Biogas Map will off the same functionality and detail as is offered on our other online plant maps.
A facinating part of the upkeep and roll out of onine maps is finding and confirming their exact location in Google Maps. Moreso than any other type of bioenergy plant, biogas operations are extremely diverse, which makes their aerial signatures difficult to distinguish. We are getting pretty good, and I'd like to share a couple "bombardier views" of biogas operations that I've found interesting.
The first is of Dane County Community Digester in Vienna, Wisc. just outside of Madison. I was present at the digester during its construction during my time as a graduate student at U. of Wisconsin-Madison, and it's nice to see it completed and operational. The complete mix digester is fed by three adjacent dairies from which the manure is piped in. The facility has internal combustion engines (ICE) that produce 2.2 MW of electricity. The resolution of Google Maps photos is truly amazing, as the photo demonstrates.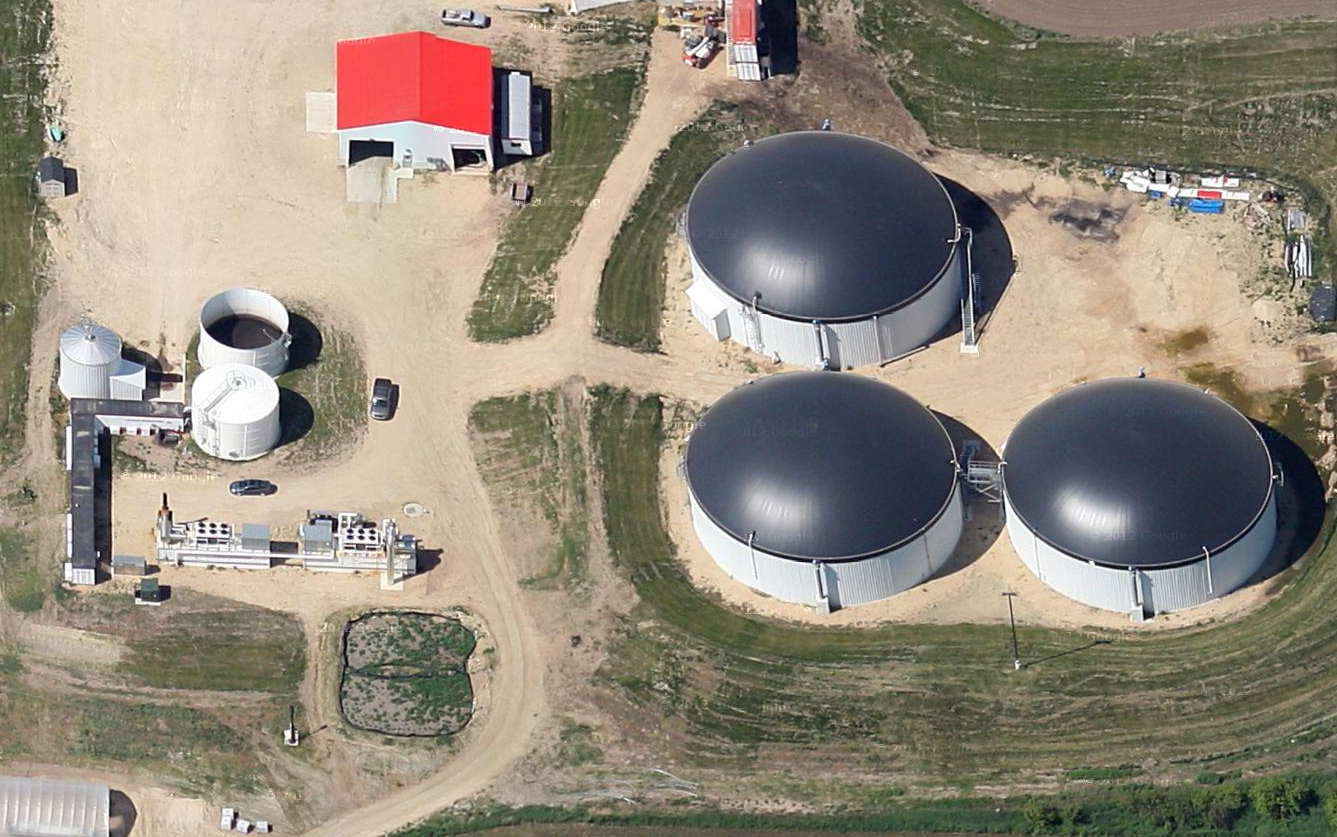 The second image is of Bio Town Ag, Inc. in Reynolds, Ind. This is a swine and cattle operation with a mixed plug flow digester. Both manure feedstocks along with off-farm substrates are fed into the Bio Town Ag digester that eventually produces 3.3 MW of power and hot water for heating. The digester and receiving facility are in the middle at the bottom of the photo, while the animal operations are primarily to the left.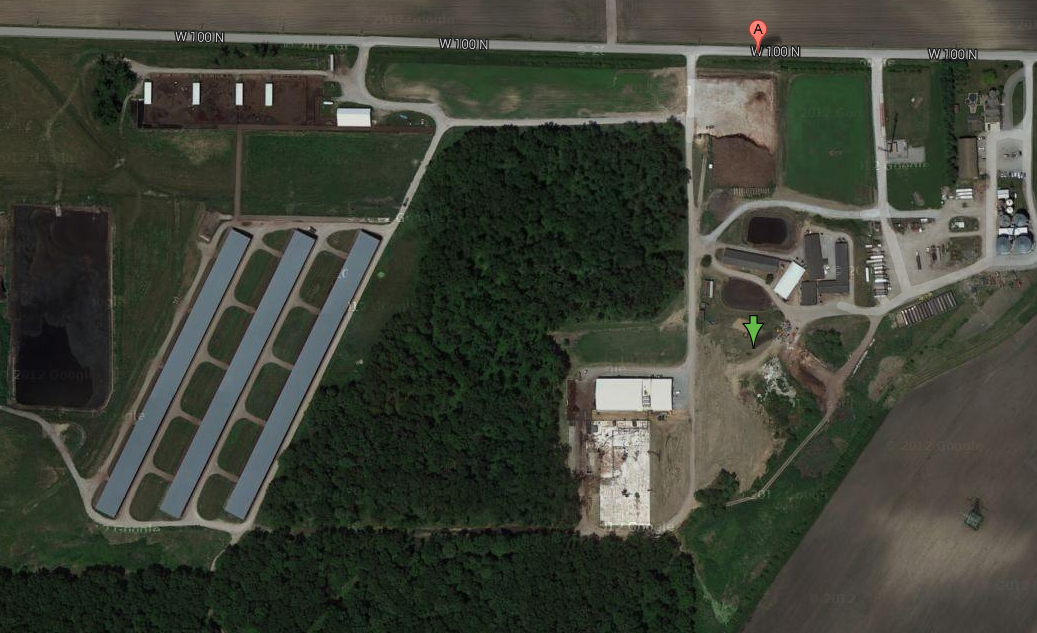 The third and final operation is of a waste water treatment plant (WWTP) in Moreno Valley, Calif. The plant is located in an urban area of southern California where air pollution is a substantial concern. The plant consumes the biogas from their AD system in fuel cells to produce electricty.